Wellbeing
At Hampstead Primary School, we have a strong focus on Wellbeing. We recognise the impact student Wellbeing has on student learning and engagement. All our staff implement a proactive, positive behaviour approach. We implement Berry Street Education Model strategies, along with other trauma informed practices. We maintain a consistent, whole school approach to ensure students are able to be successful and understand the expectations regardless of which lesson they are in.
Engagement For Learning Agreement
Berry street strategies/Trauma informed practice
Hampstead Primary School recognises that students from different backgrounds may have experienced trauma. This is why all staff are trained and implement trauma informed practices into their classroom. This provides all students the greatest opportunity at success at school.
Interoception
Interoception is the 8th sense in our body that helps us recognise when we are hot, cold, tired, hungry, thirsty or feeling emotions. For a number of reasons, not everybody develops this skill naturally. This is why at Hampstead Primary School, we support students to develop this skill. Every classroom throughout the day engages in interoception breaks. We further provide interoception intervention for particular students with trained SSOs, where they will either work 1 to 1 or in small groups, multiple times a week.
Interoception 101 Activity Guide
Calm down Corners
In order to support student's self-regulation, all classrooms have a calm down corner. Calm down corners provide students with a safe place to go into for up to 10 minutes to help regulate their emotions and be ready to learn. As students who have experience significant trauma recognise their mother's womb, prior to birth, as the safest place they have experienced, the calm down corner mimics that by providing a closed off area for them. In the calm down corners, they all have a range of sensory tools, blankets and pillows to support students.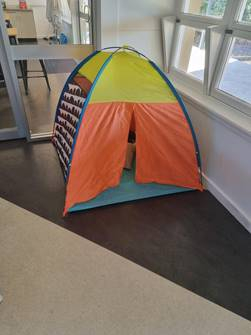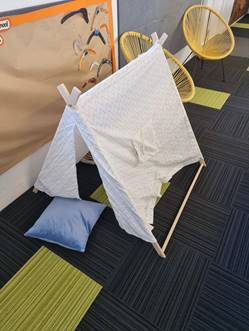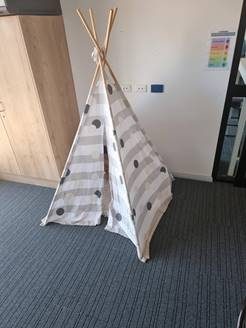 Movement/brain breaks
Throughout the day and between lesson transitions or extended periods of learning, classes engage in brain and movement breaks. These breaks allow students to regulate their emotions and re-focus. This further gets positive endorphins running through their brains to allow them to be successful in their learning.
Zones of regulation/whole class check-ins
To support students to recognise their emotions, Hampstead Primary School uses the Zones of Regulation. As some students struggle to recognise individual emotions, the Zones of Regulation incorporates a number of different emotions into each Zone. This includes the green zone (optimal state of learning), yellow zone (heightened levels of energy), blue zone (low levels of energy), red zone (heightened state of arousal). Staff are all trained in using the Zones of Regulation and regularly use the language with students. "I can recognise you are in the yellow zone because you have a lot of energy so we are going to have a 5 minute movement break to get you back to the green zone". Staff also model their own emotions to support students learning. In every classroom, teachers have setup a Zones of Regulation check in with the 4 different Zones. After recess, lunch, specialist subjects and between lesson transitions, students recognise and place their name next to one of the Zones to describe what state they are feeling. Using this, teachers will then support students in the blue, red or yellow zones to get back to the green zone.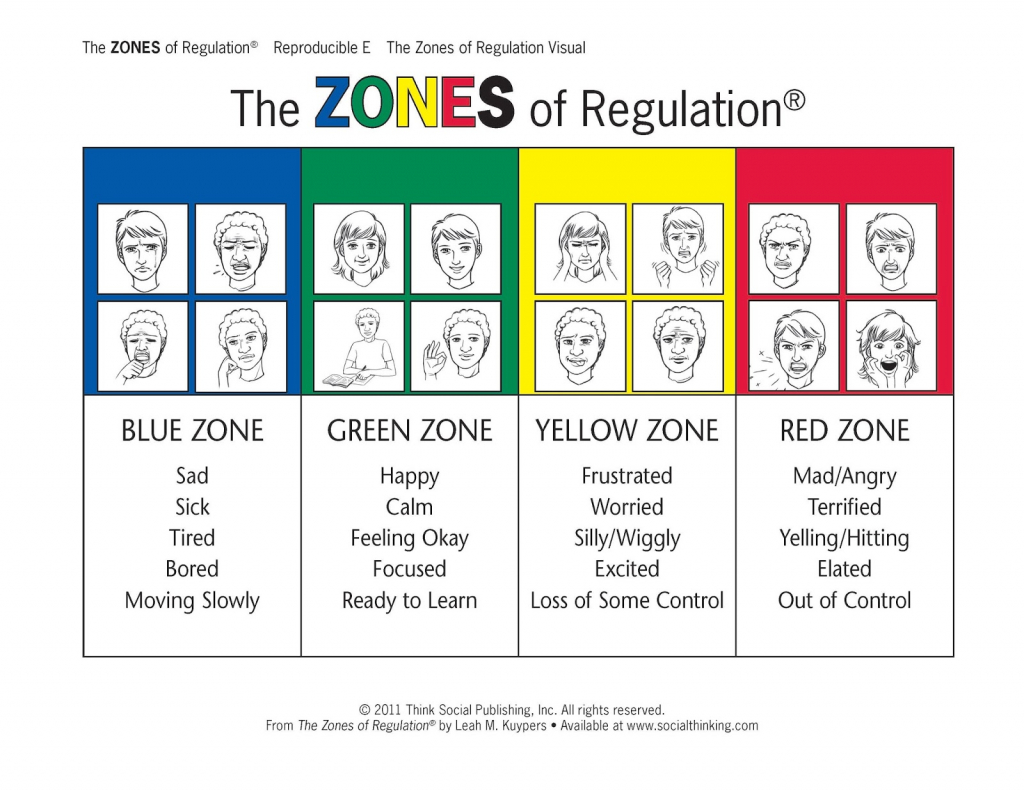 Restorative justice
In order to maintain a fair process, Hampstead Primary School embeds a restorative justice approach across the school. When an issue between students has occurred, staff discuss with the students about what happened, how they were feeling as well as the other person, strategies that can be tried next time and what can be done to make things right. This helps students to recognise their emotions during a situation as well as being empathetic towards others.
Break time activities
To provide students with further opportunities, Hampstead Primary School runs activities at recess and lunch times that students can opt in to. These cater to student's interest including sports, digital technology, dance, lego and drawing.
The break time activites are paused for the beginning of Term 3 due to Swimming and other reasons.
Break expectations/calm down corner expectations
At Hampstead Primary School, we maintain a consistent approach to supporting student's wellbeing and emotions. This is why we have whole school agreements around students having regulation breaks and using the calm down corners. This allows students to be more successful regardless of which lesson they are in as they know the expectations and routines.
Breakfast club/Emergency lunches
Breakfast is the most important meal of the day as it provides students with the energy they need to manage their emotions and sustain periods of learning. Hampstead Primary School offers a breakfast club for particular students multiple times a week. During this time, staff engage in positive conversations with students, share recipes and support them to learn the responsibility of cleaning up. Healthy foods, such as toast, eggs, pancakes, cereal and fruit are offered. Further, students who don't bring recess or lunch to school are supplied with an emergency lunch to ensure they can maximise their learning success.
One Boxes/Kickstart for kids
Hampstead Primary School partners with Kickstart for Kids who donate food to us each week. This food provides us the opportunity to support students who don't bring lunch or recess and to run our breakfast club program. We further partner with The Fruit Box Group who donate One Boxes that have fruit, vegetables, bread and milk weekly. We offer these to families who benefit from the extra support.
Healthy eating policy
At Hampstead Primary School, we recognise the importance of a balanced diet. This is why we encourage students to bring a balance of green and amber food choices in their lunchbox. Having this balance allows students to maintain a healthy sense of wellbeing and growth. We maintain a whole school approach and provide healthy eating lessons as part of our Health curriculum. Each term, classes can have one red food celebration event, while the whole school can have one red food event.
Morning/afternoon circle
Every morning, classes begin the day with circle time. This allows a predictable, routine start to every day. Classes begin by greeting each other, discuss school values to be displayed throughout the day, any expectations, announcements, engage in a positive primer activity to ensure everybody is in the green zone and finish by discussing what are you looking forward to today or what went well last night. In the afternoon, classes will engage in another circle time where they will discuss what went well today to help develop a greater sense of gratitude.